SIZE 14 SHIRT FEMALE DRESS US COAST GUARD USCG WOMEN'S SHORT SLEEVE BLUE 36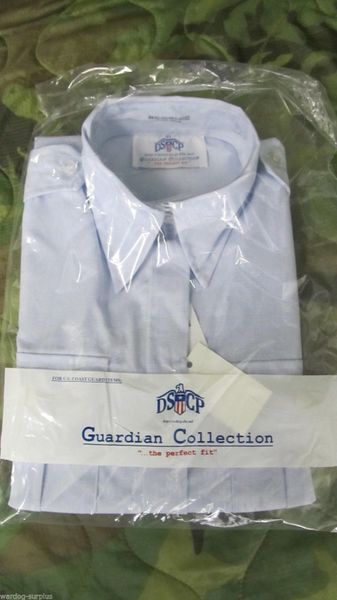 SIZE 14 SHIRT FEMALE DRESS US COAST GUARD USCG WOMEN'S SHORT SLEEVE BLUE 36
GENUINE
UNITED STATES COAST GUARD
WOMEN'S SHORT SLEEVE DRESS SHIRT
LIGHT BLUE
ABOUT THE MANUFACTURER:
These are original US COAST GUARD (USCG) regulation (CREIGHTON®, DSCP, or other DoD Contract Manufacturer) Service Dress Blue Shirts. The high quality clothing manufactured for the US Military is the mark of distinction for all branches of service and is worn by Officers, SNCO's, NCO's and Enlisted alike.
ABOUT THIS SHIRT:
The women's light blue Short sleeve dress shirt has a fly front covering the six or seven button closure (right over left), a soft stand-up collar with stays, two button cuff closure, shoulder epaulets, and a pleated patch pocket with button flap closure on each front panel. This shirt is made of the same material and color as the Air Force light blue shirts.
Each shirt shall be fit over a brassier. There shall be ample room around the bust and shoulders to permit free use of the arms without binding. The shoulder/sleeve seam shall reach a point to the outer edge of the shoulder joint.
NOMENCLATURE: SHIRT, WOMEN'S
NSN: 8410-01-454-0082
SOURCE: GENUINE U.S. MILITARY (USCG) ISSUE / SURPLUS
COLOR: AIR FORCE BLUE Shade 1550, Before I get emails correcting me: that is NOT a typo. The Coast Guard uses Air Force Blue for Dress Shirts.
MATERIAL: 65% POLYESTER 35% COTTON
STYLE: SHORT SLEEVE DRESS SHIRT
SIZE: 14" Neck x 36" Bust
CONDITION: These Shirts are NEW in the Plastic.
FEATURES:
· Epaulets
· No Pockets
· Tapered Cut
· WRINKLE RESISTANT
· BUTTON FRONT
· 2 POCKETS: PATCH LEFT BREAST PATCH RIGHT BREAST