US ARMY MOLLE MILITARY TACTICAL ASSAULT PACK ACU DIGITAL CAMO BACKPACK VGC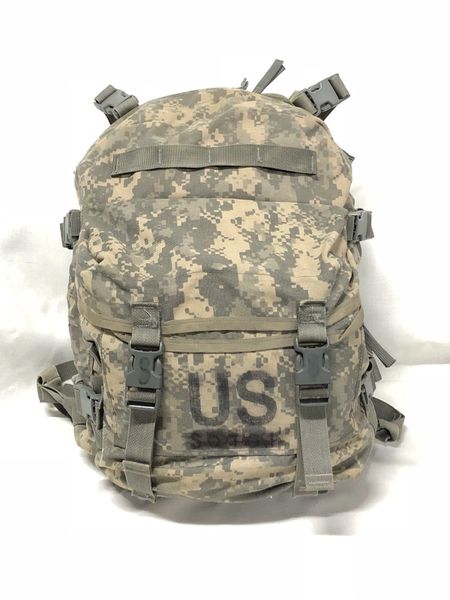 US ARMY MOLLE MILITARY TACTICAL ASSAULT PACK ACU DIGITAL CAMO BACKPACK VGC
GENUINE US MILITARY ISSUE / SURPLUS
MOLLE II
ASSAULT PACK
US ARMY ACU DIGITAL CAMOUFLAGE
This Assault Pack has been Battle Tested in some of the most demanding environments in the world. So yes Nancy, this will be suitable for carrying your yarn and knitting needles from your truck to your tree stand when you're deer hunting.
The MOLLE II ASSAULT PACK is part of the MOLLE RIFLEMANS SET and is designed for short missions and patrols when equipment load is less than that of the main pack but more than a Load Bearing Vest or Fighting Load Carrier.
NOMENCLATURE: MOLLE II ASSAULT PACK
MOLLE STANDS FOR: MODULAR LIGHTWEIGHT LOAD-CARRYING EQUIPMENT
MANUFACTURER: SPECIALTY DEFENSE (SDS), MICHAEL BIANCO,
or OTHER DOD CONTRACT MANUFACTURER
NSN: 8465-01-524-5250 or SIMILAR
COLOR: SHADES of GREEN, GRAY, & WHITE
PATTERN: ACU DIGITAL CAMOUFLAGE
CONDITION: GOOD to VERY GOOD CONDITION – SEE PHOTOS
ABOUT CONDITION: PACK WILL BE IN PERFECT FUNCTIONAL CONDITION: NO STIFFENER SHEET BUT ALL ZIPPERS, PULLS, BUCKLES, SNAPS, AND HARDWARE WILL BE PRESENT AND WORKING; FABRIC WILL BE SOLID WITH NO HOLES, RIPS, OR TEARS
PACK MAY SHOW MINOR SIGNS OF USE / WEAR, MAY HAVE NAMES WRITTEN ON PACK OR AREAS WHERE NAMES WERE BLACKED OUT.
AT ANY RATE, THESE ARE ROCK-SOLID BACKPACKS THAT WILL SHRUG OFF ANYTHING YOU CAN THROW AT THEM, AND AT THE PRICE HERE THEY ARE A REAL VALUE
POCKETS (From front to against wearer's back):
· (1) Velcro Flap Front Pocket w/ Rain Flap (or piss flap if your buddies are as retarded mine) on outside front
· (1) Zippered Compartment w/ Rain Flap
· (1) Velcro Flap small document pocket inside the above Pocket
· (1) Large ¾ Double-Zip Main Compartment
· (1) Flat Pocket inside above Pocket w/ gear raising Nylon Straps for lifting heavy objects from bottom of pocket such as Radio
· (1) Hydration System Pocket on back of pack (closest to operator's back) also good for: Maps, Documents, or that pair of perfume soaked panties your old lady sent you so you could be even more lonely on deployment
CARGO AREA MEASUREMENTS:
Main Compartment: 17" H x 14" W x 5.5" D (approx. capacity 1300 cubic inches)
Outer Cargo Pocket: 12" H x 11" W x 3.5" D (approx. capacity 460 cubic inches)
OTHER FEATURES:
· Adjustable Waist Belt
· Adjustable Chest Strap
· Adjustable padded shoulder straps w/quick ditch buckles
· Form pad and plastic stiffener NOT INCLUDED
· Two Velcro ports on the top for the tubing of a hydration pack hose and radio antenna
· Attaches directly to the SDS MOLLE Main Pack
· Jump/Airborne Approved
· MOLLE attachment points on both side for Sustainment Pouches, Canteens as well as a wide variety of MOLLE, ALICE, or Civilian pouches
· MOLLE attachment points on bottom for attaching the MOLLE Waist Pack
· 2 Front and 4 side compression straps to secure your load (some packs may be missing one of these straps, this does not inhibit use)
· Heavy-Duty Carry/Drag Handle (Drag as in your buddy can Drag your *ss out of harm's way)
· Made of Heavy Duty Water Resistant Cordura Material