USMC COMBAT FIELD BACKPACK FILBE ASSAULT PATROL PACK CIF TURN-IN TRADE-IN POOR CONDITION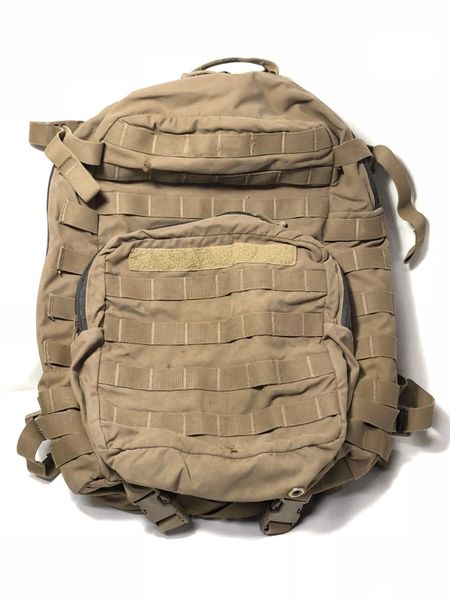 USMC COMBAT FIELD BACKPACK FILBE ASSAULT PATROL PACK CIF TURN-IN TRADE-IN POOR CONDITION
GENUINE USMC ISSUE / SURPLUS
FILBE PATROL PACK
THE FILBE PACK SYSTEM IS THE US MARINE CORPS' MOST ADVANCED LOAD CARRYING SYSTEM TO DATE. IT WAS DESIGNED FOR INFANTRMEN IN A DISMOUNTED ROLE FOR LONG DISTANCE MOVEMENT AND IS THE CURRENT MODEL FIELDED BY US MARINES THE WORLD OVER. THE PATROL PACK IS AN ELEMENT OF THE LARGER FILBE SYSTEM
ABOUT THE FILBE PATROL PACK:
THE PATROL PACK IS UTILIZED TO SUSTAIN AN INDIVIDUAL MARINE FOR 24-48 HOUR PERIODS. THE PATROL PACK HAS BUCKLES TO ATTACH IT TO THE TOP OF THE MAIN PACK. WITH THE POUCH ATTACHMENT LADDER SYSTEM (PALS) ON THE EXTERIOR OF THE PATROL BAG FOR THE ATTACHMENT OF EXTERNAL POUCHES, THE DIVIDED INTERNAL POCKETS AND ZIPPERED COMPARTMENTS, THE PATROL PACK IS WELL DESIGNED TO HELP MARINES FULFILL THE NEEDS OF SHORTER MISSIONS AND PATROLS.
NOMENCLATURE: FILBE PATROL PACK
ALSO CALLED: FILBE ASSAULT PACK
NSN: 8465-01-600-7830 or SIMILAR
SYSTEM: FILBE – FAMILY of IMPROVED LOAD BEARING EQUIPMENT
SYSTEM OTHER: MOLLE, PALS
COLOR: COYOTE
CONDITION: FAIR CONDITION FOR PARTS, REPAIR OR TURN-IN / TRADE-IN – WILL HAVE HEAVY WEAR AND DEFECTS, DOES NOT INCLUDE PLASTIC SHEET STIFFENER – SEE PHOTOS FOR REPRESENTATION of CONDITION
MANUFACTURER: EAGLE INDUSTRIES
FEATURES / SPECS:
§ CONTOUR SHOULDER STRAPS
§ INDIVIDUAL FORM PAD BACK PANEL
§ STERNUM STRAP AND WAIST BELT
§ PANEL LOADER HAS AN ASYMMETRIC 2-WAY ZIPPER THAT OPENS LOWER ON THE WEARER'S LEFT SIDE
§ MOLLE WEBBING ON THREE (3) SIDES
§ 600 DENIER NYLON CONSTRUCTION
§ HEAVY-DUTY CARRY AND DRAG HANDLE
§ GROMMETS ON THE BOTTOM FOR DRAINAGE
§ THE OUTER COMPARTMENT FEATURES AN INTERNAL MESH POCKET
§ MAIN COMPARTMENT ALSO HAS A MESH POCKET AND WILL ACCOMMODATE A RADIO
§ DIMENSIONS: APPROX. 20" X 14" X 8"
§ GENUINE US MILITARY / USMC ISSUE