USMC US MARINE CORPS ENLISTED DRESS BLUES UNIFORM TROUSERS PANTS GABARDINE CORP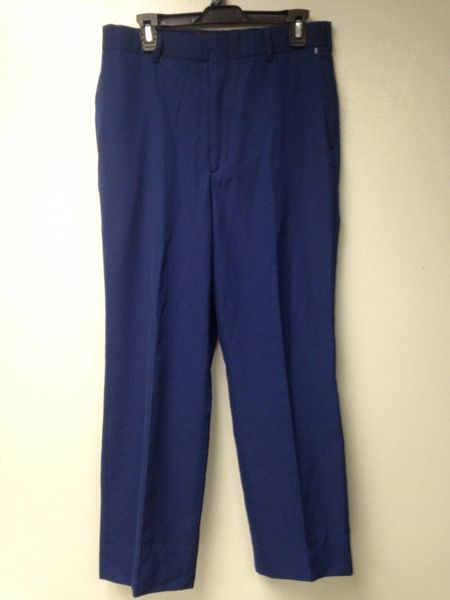 USMC US MARINE CORPS ENLISTED DRESS BLUES UNIFORM TROUSERS PANTS GABARDINE CORP
Official U.S Marine Corps Dress Blues Uniform Pants
Polyester/Wool
Shade 2319, Gabardine
Select your size from the drop down menu
These are enlisted Marine Pants without the red stripe (blood stripe) for junior enlisted. Great gift for the recent boot camp graduate.
Condition: all of our pants are brand new and have been professional on base hemmed by a military tailor to exact Mil Specs
All pants are brand new and unissued about 50% of our stock has tags and the others do not because the tags can easily fall off during transport and storage.
Inside tag may have inspectors mark
High quality and made in the USA
Photo is a stock as we are offering a variety of sizes with this listing
Chest

Height

Waist

Inseam

XS
S
M
L
XL
2XL
3XL
4XL
5XL

29 – 33"
33 – 37"
37 – 41"
41 – 45"
45 – 49"
49 – 53"
53 – 57"
57 – 61"
61 – 65"

SHORT
REGULAR
LONG

63 – 67"
67 – 71"
71 – 75"

XS
S
M
L
XL
2XL
3XL
4XL
5XL

23 – 27"
27 – 31"
31 – 35"
35 – 39"
39 – 43"
43 – 47"
47 – 51"
51 – 55"
55 – 59"

SHORT
REGULAR
LONG
X-LONG

26 ½ – 29 ½"
29 ½ – 32 ½"
32 ½ – 35 ½"
35 ½ – 3