NEW 32 X-SHORT USGI US MILITARY USCG ODU BDU TOP COAT JACKET SHIRT WARM WEATHER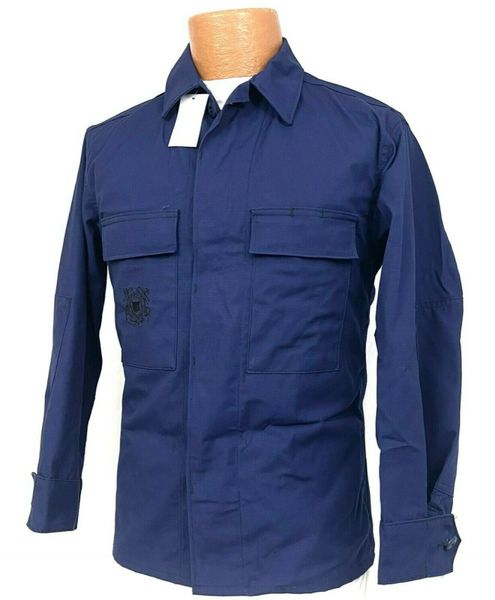 NEW 32 X-SHORT USGI US MILITARY USCG ODU BDU TOP COAT JACKET SHIRT WARM WEATHER
GENUINE US MILITARY DEPT OF HOMELAND SECURITY ISSUE / SURPLUS
UNITED STATES COAST GUARD
USCG
ODU – TOP, SHIRT, COAT, JACKET
INCLUDED IN AUCTION:                               1 ODU SHIRT
NOMENCLATURE:                                           SHIRT, OPERATIONAL DRESS UNIFORM
NOMENCLATURE 2:                                     COAT, OPERATIONAL DRESS
COLOR:                                                            USCG BLUE 3382 (NAVY BLUE)
MATERIAL:                                                      50% COTTON / 50% NYLON - LIGHTWEIGHT RIPSTOP
NSN:                                                                8415-01-587-2706 or SIMILAR 
SIZE:                                                               MEN'S   32XS    (32 EXTRA SHORT)
                                                                                    HEIGHT:                      61" to 63", 61 – 63 IN., INCH, INCHES
                                                                                    CHEST:                        UP TO 32", 32 IN., INCH, INCHES
CONDITION:                                                   NEW W/ TAGS
ABOUT THE USCG ODU UNIFORM:
THE ODU (OPERATIONAL DRESS UNIFORM) IS THE NORMAL WORK UNIFORM OF THE UNITED STATES COAST GUARD AND THE UNITED STATES COAST GUARD AUXILIARY.
THE COAST GUARD INTRODUCED THE NEW "OPERATIONAL DRESS UNIFORM" (ODU) UNIFORM IN 2004 TO REPLACE THE WINTER AND SUMMER "UNDRESS DUTY" UNIFORM. RESEMBLING LAW ENFORCEMENT SWAT FATIGUES, THE ODU UNIFORM RESEMBLES THE OLD-STYLE BATTLE DRESS UNIFORMS, BUT WITH THE LOWER POCKETS ON THE BLOUSE BEING ELIMINATED AND THE UNIFORM BEING WORN TUCKED INTO THE TROUSERS, SIMILAR IN NATURE TO THE OLD-STYLE COLD WAR-ERA FATIGUES. THE SLEEVES CAN BE WORN FOLDED UP AND THE TROUSERS BLOUSED ABOVE THE BOOTS, WITH THE ODU BLACK BELT AND BLACKENED BUCKLE (ALSO REFERRED TO AS A RIGGER'S BELT) BEING WORN WITH THE METAL TIP 2 TO 4 INCHES FROM THE BUCKLE. A DARK BLUE COAST GUARD UNIT BALL CAP IS WORN WITH THIS UNIFORM. THE ODU ALSO HAS ALL OF ITS INSIGNIAS SEWN ON, ELIMINATING THE CHANCE OF PUNCTURE WOUNDS CREATED BY THE PINS IF AN INDIVIDUAL SUFFERS A BLOW TO THE CHEST WHILE WEARING A PFD.
THIS SHIRT WOULD BE GREAT FOR:
·         AN OVER-SHIRT FOR BRISK DAYS, YARD WORK, ETC..
·         SWAT UNIFORM, THIS IS VERY SIMILAR IF NOT THE SAME AS THE UNIFORM SHIRT FOR A LOT OF LAW ENFORCEMENT TACTICAL TEAMS
·         AIRSOFT, PAINTBALL
·         COVER-SHIRT FOR JUST ABOUT ANYTHING
·         OH, UH….USCG UNIFORM….DUH