SET of 2 NEW CUMMERBUND STAYS EAGLE IND MTV TAN CLIP KEEPER USMC MARINE CORPS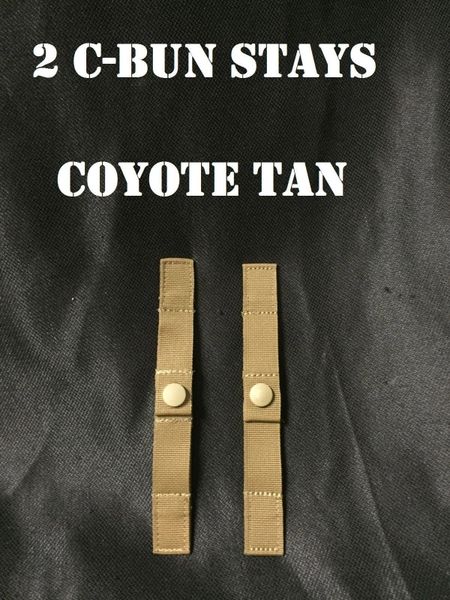 SET of 2 NEW CUMMERBUND STAYS EAGLE IND MTV TAN CLIP KEEPER USMC MARINE CORPS
US MARINE CORPS (USMC)
EAGLE INDUSTRIES
CUNBERBUN / CUMBERBUND / CUMMERBUN
STAYS
These STAYS fasten to the CUMMERBUN, CUMBERBUND, or CUMBERBUN (whatever you decide to call them…..these are it!) of the USMC Scalable Plate Carrier to provide a streamline and efficient way for the user to customize their SPC, MTV, IMTV, or IBA for fit, comfort, and or loadout.
These "STAYS" Also work well with ANY MOLLE GEAR and can be USED FOR:
· STAY OR STOP ON BELT
· MOUNT ON MOLLE ANYWHERE YOU NEED A SNAP SECURED LOOP
· USE ON VEST OR MOLLE PANNEL TO SECURE:
o CHEM-LIGHT
o CORD
o KEYS
o CARABINER
o DOG LEASH
o WEAPON SLING
o KNIFE MOUNTED HORIZONTALLY
o ETC., ETC., ETC…..
*SEE PICTURES OF THIS STAY IN USE ON MOLLE PANNEL FOR SOME OF THE ABOVE SUGGESTIONS*
**MOLLE PANNEL FOR ILLUSTRATION AND NOT INCLUDED IN THIS LISTING**
Included in Listing: (2) CUMBERBUN STAYS
NSN: 8470-01-562-7876 – (THIS IS THE NSN FOR THE KIT THAT THESE WERE CONTAINED IN)
Manufacturer: Eagle Industries
Country of MFR: Made in USA
Color: TAN – COYOTE TAN – ALMOST COYOTE BROWN
Product Group: Field Gear > Ballistic Protection > Scalable Plate Carrier > Accessories
Application: FOR USE w/ MOLLE
Features: GhillieTEX™ I.R. Signature Reduction Technology Snaps
*The below information on Scalable Plate Carriers and components is included for reference only and does NOT indicate inclusion of any of the following in this listing. The only item(s) offered and included in this sale are those in the photos and described above.*