Set of 2 Replacement U.S Military Custom Personalized / ID Shiny Dog Tags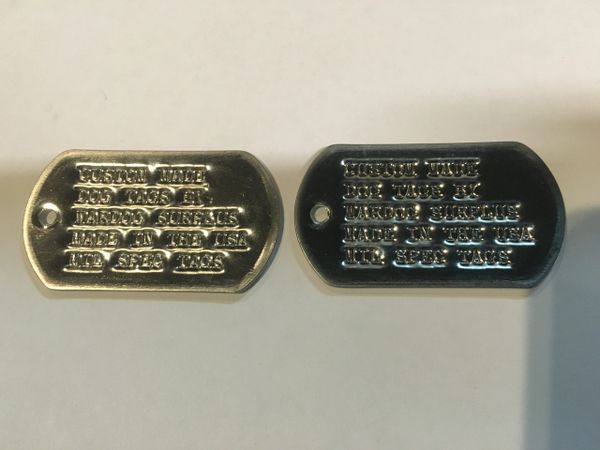 Set of 2 Replacement U.S Military Custom Personalized / ID Shiny Dog Tags
What you will receive:
- 2 Military Stainless Steel Dog tags Shiny (Customized with your info)
What we can put on your tags:
- OUR MACHINE CAN PUT ALL LETTERS OF THE ALPHABET - NUMBERS - 1234567890 AND THESE SPECIAL CHARACTERS AND ONLY THESE - / , $ 1/4 . and a STAR
- 5 LINES OF INFORMATION
- 15 CHARACTERS PER LINE INCLUDING SPACES. REMEMBER TO COUNT YOUR CHARACTERS, THE TAG WILL NOT FIT MORE THAN 15 PER LINE.
- Your tags can be made in the same format as genuine military tags or can be a special message to a loved one, a anniversary date, a bible verse, a gamer tag name or anything you want.
SEND IT IN THIS FORMAT
TAG#1
Line 1) LAST NAME / OR TEXT OF YOUR CHOICE
Line 2) FIRST NAME / OR TEXT OF YOUR CHOICE
Line 3) SSN / OR TEXT OF YOUR CHOICE
Line 4) BLOOD TYPE / OR TEXT OF YOUR CHOICE
Line 5) RELIGOUS PREFERENCE / OR TEXT OF YOUR CHOICE
TAG#2
Line 1) LAST NAME / OR TEXT OF YOUR CHOICE
Line 2) FIRST NAME / OR TEXT OF YOUR CHOICE
Line 3) SSN / OR TEXT OF YOUR CHOICE
Line 4) BLOOD TYPE / OR TEXT OF YOUR CHOICE
Line 5) RELIGOUS PREFERENCE / OR TEXT OF YOUR CHOICE