LOT OF 5 TACTICAL PACE COUNT RANGER BEADS LAND NAV HIKING HUNTING VETERAN MADE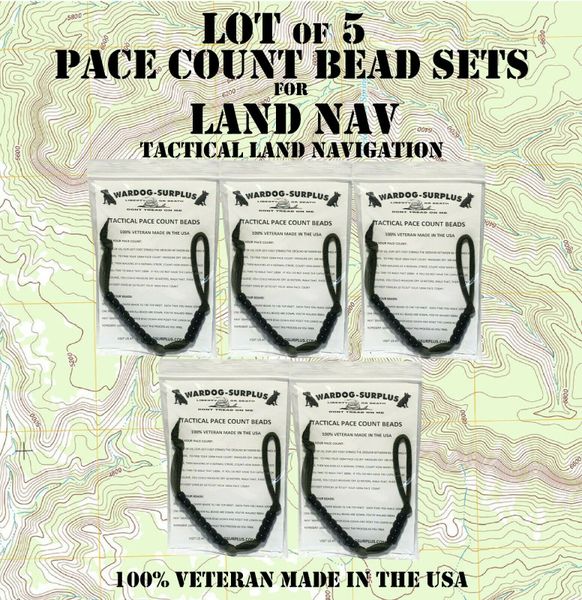 LOT OF 5 TACTICAL PACE COUNT RANGER BEADS LAND NAV HIKING HUNTING VETERAN MADE
GENUINE TRADITIONAL US MILITARY
PACE COUNT BEADS
ITEM:                          PACE COUNT / COUNTING BEADS
INCLUDES:                 BEADS – (5) SETS, ASSEMBLED; INSTRUCTION CARD
BRAND:                      WARDOG SURPLUS
COUNTRY of MFR:     MADE IN USA
ABOUT MFR:              100% VETERAN MADE BY US IN-HOUSE
FEATURES / SPECS:
·        LIGHTWEIGHT AT ONLY .2 OUNCE
·        TRACKS UP TO 5,000 METERS
·        EASILY ATTACHES TO BACKPACK SHOULD STRAPS, TACTICAL VESTS, WAIST BELTS AND MORE
·        USING THE LOOP THRU METHOD or GIRTH HITCH SHOWN IN PICTURES TO ATTACH BEADS, NO ADDITIONAL HARDWARE IS NEEDED
·        COMES PACKAGED WITH COMPLETE INSTRUCTIONS
·        HANDMADE BY US MILITARY VETERANS
·        MADE IN THE USA USING ONLY US MATERIALS
ABOUT PACE COUNT BEADS:
PACE COUNT BEADS ARE USED BY US MILITARY TROOPS TO ACCURATELY TRACK DISTANCE WHILE NAVIGATING LAND ON FOOT.
THESE SIMPLE BEADS ARE AN ESSENTIAL PIECE OF KIT FOR TRAVELING ON FOOT ESPECIALLY IN CATASTROPHIC SITUATIONS WHEN TECHNOLOGY IS COMPROMISED OR UNAVAILABLE.  PACE COUNT BEADS ARE ALSO USED FOR: CONDUCTING LAND NAVIGATION COURSES, IN COMBAT PATROL SITUATIONS, GEOCACHING, AND BY BOY SCOUTS FOR OUTDOOR SURVIVAL TRAINING.
IF YOUR WALKING TO LOSE WEIGHT YOU CAN ALSO USE PACE COUNTING BEADS TO TRACK YOUR ACTUAL DISTANCE WHEN PEDOMETERS ARE UNAVAILABLE OR IMPRACTICAL.
TO FIND YOUR PACE COUNT:
FOR MOST OF US, OUR LEFT FOOT STRIKES THE GROUND BETWEEN 60-70 TIMES IN 100 METERS.  TO FIND YOUR 100M PACE COUNT: MEASURE OFF 100 METER DISTANCE, THEN WALKING AT A NORMAL STRIDE, COUNT HOW MANY LEFT FOOT STEPS YOU TAKE TO WALK THAT 100M.  IF YOU DO NOT HAVE THE CAPACITY FOR 100M COURSE, YOU COULD MEASURE OFF 10 METERS, WALK THAT, THEN MULTIPLY THE LEFT FOOT STEPS BY 10 TO GET YOUR 100M PACE COUNT
TO USE PACE COUNT BEADS FOR DISTANCE TRACKING:
SET ALL OF THE LOWER BEADS TO THE TOP KNOT.  EACH TIME YOU WALK 100M PULL ONE BEAD DOWN.  WHEN ALL BEADS ARE DOWN, YOU'VE WALKED 900M.  AFTER THE NEXT 100M, MOVE ONE UPPER BEAD DOWN AND RESET THE LOWER BEADS TO REPRESENT 1000M WALKED.  REPEAT THE PROCESS AS YOU TREK.